Pezzetti Italexpress Aluminium Stove Top Moka Pot - 6 Cup - Orange Polycarbonate Handle
£22.50
inc VAT
(£18.75 ex VAT)

£24.00
RRP

- save

£1.50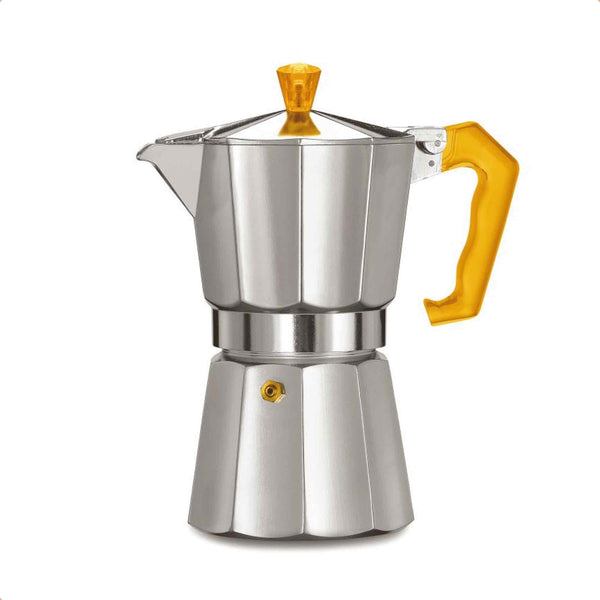 Pezzetti Italexpress Aluminium Stove Top Moka Pot - 6 Cup - Orange Polycarbonate Handle
£22.50
inc VAT (£18.75 ex VAT)
£24.00
RRP

- save

£1.50
SKU:
JAG30898
BRAND:
Pezzetti
High quality Moka Pots for crafting traditional Italian espresso. Eight sided shape diffuses heat evenly to enhance the aroma and taste of the coffee. To clean just rinse in hot soapy water, with the right care this durable unit will keep making rich, authentic espresso for years after purchase.
Brand: Pezzetti
Range: Italexpress
Material: aluminium
Size: 6-cup
Brew time: 4-5 minutes
Colour: orange
Use on: gas or electric hobs
Shape: eight sided
Country of origin: Italy
My new Pezzetti Italian Stove Top Coffee Pot
Hi at Clumsy,
A lovely little coffee pot.
It seems a lot better than others I've had, which I guess could have been made in China,
It's well made!
I'm making my coffee in it regularly now, and life is good!!
As good as Inspector Montalbano!
Thank you.
I'll recommend a Pezzetti pot to anyone.
And you are a saved seller.
Thank you for simple ordering, easy payment and prompt delivery!
Many thanks.
All best wishes,
Henry
at Hereford
Clumsy Goat Roast Of The Month Coffee Subscriptions

Discover an exciting new Clumsy Goat roast each month

All of our roasts are 100% Fairtrade certified

Roasted in weekly batches for extra freshness

Pause, skip or cancel any time

Start your subscription today via the link below and save 10% on your first delivery - with free shipping!
View Subscription Details