Eureka Mignon Manuale 50 Home Coffee Grinder - 50mm - Black
£239.00
inc VAT
(£199.17 ex VAT)

£300.00
RRP

- save

£61.00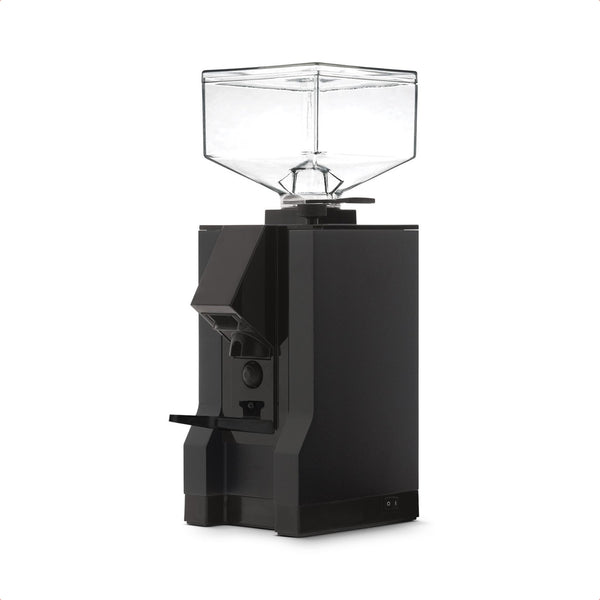 Eureka Mignon Manuale 50 Home Coffee Grinder - 50mm - Black
£239.00
inc VAT (£199.17 ex VAT)
£300.00
RRP

- save

£61.00
SKU:
JAG30701
BRAND:
Eureka
**Our recommended alternative to the espresso version of the Eureka Mingon Crono, which was sadly discontinued recently. The Manuale 50 sits at a similar price point and is fitted with the same espresso burrs that have been so popular**
The Manuale 50 is a great option for anyone looking to single dose their espresso. It doesn't feature a timer, so the dose will continue to grind for as long as you press the activation button. Making it ideal for anyone looking to weigh their beans before adding to the hopper. 
If you don't wish to single dose you can get around this by timing manually on your phone or with a dedicated timer. We have a range of timers and scales available here if you do need one. 
Product features:

Brand: Eureka
Colour: black
50mm flat hardened steel burrs
Grinding speed: 1.1-1.5g/s (espresso) / 1.5-2.1g/s (brew)
310W Motor
1350 RPM
Stepless micrometric regulation
Hopper Capacity 300g
Weight: 5.6Kg
Dimensions: H: 350 x W: 180 x D: 120mm
Please note that this grinder is currently available for a discounted promotional price, therefore our usual 10% discount code (CG10) is sadly not valid for this particular model. We apologise for any inconvenience caused.
Fantastic Grinder
I did A LOT of research into my first espresso grinder and the Eureka Mignon came out tops. It's a great grinder with a bit of a steep learning curve. It's a solid grinder made from metal and I can see myself using this for at least the next 10 years.
New coffee grinder
It grinds espresso. Properly. Crema heaven. Simple and effective, no bells or whistles.
Had a cheap grinder before, to go with my Rocket espresso machine. Was like towing a caravan with a Ferrari.
Quality espresso grinder
Finally got myself a proper espresso grinder to go with my Gaggia Classic , also got 18g vst basket. Using as single dose has little retention as standard and does everything I need dosing directly into the portafilter . No problem with static probably get a dosing ring just to improve work flow . Having fun now dialling in not yet dropped pressure from 15 bar so more Improvement to be achieved!
Eureka Mignon Manuale 50 Home Coffee Grinder
Having had cheaper electric grinders in the past, which usually lasted about a year, I decided to spend a little more this time in the hopes of some longevity. As I've only had it about a month so far I cannot comment on whether this investment was wise or not. But I am reassured by what I have seen. It is a solid, well built machine, with basic functions and nothing too fancy (more gimmicks means more to go wrong). Most components can be replaced if they do fail or wear out. The grind quality is great, with a marked improvement in the espresso I pull. All in all so far so good
Clumsy Goat Roast Of The Month Coffee Subscriptions

Discover an exciting new Clumsy Goat roast each month

All of our roasts are 100% Fairtrade certified

Roasted in weekly batches for extra freshness

Pause, skip or cancel any time

Start your subscription today via the link below and save 10% on your first delivery - with free shipping!
View Subscription Details