Hario Dark Wood Woodneck Cloth Filter Drip Pot - 1-2 Cup
£32.14
inc VAT
(£26.78 ex VAT)

£45.00
RRP

- save

£12.86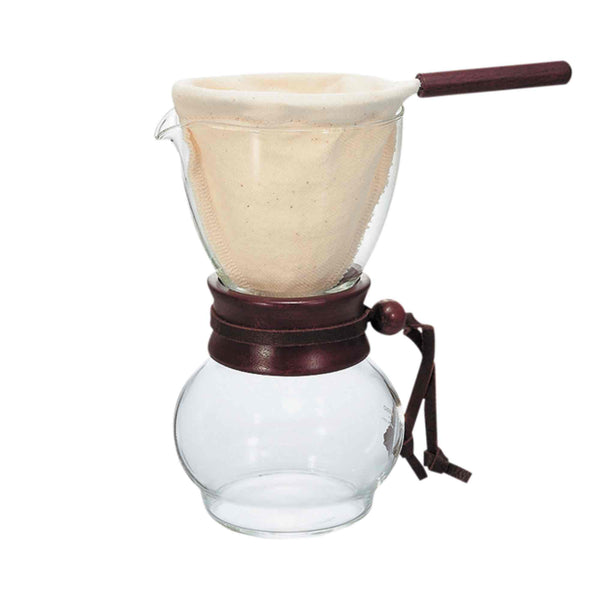 Hario Dark Wood Woodneck Cloth Filter Drip Pot - 1-2 Cup
£32.14
inc VAT (£26.78 ex VAT)
£45.00
RRP

- save

£12.86
SKU:
DPW-1
BRAND:
Hario
Hario Woodneck Drip Pot
Reminiscent of cloth-filter brewing that is a staple in Japanese coffee culture, the Hario Woodneck Drip is a simple, elegant device that will ignite the curiosity of your coffee friends. The woodneck drip pot is designed to accentuate sweetness and a full body. Its cloth filter is reusable, which allows you to reuse the pot time and again without the need for additional paper filters.
Cloth filters tend to have smaller holes than a paper filter, and a less structured water and drip flow. The reduced flow rate results in a slight immersion effect, making the final cup a full, round and rich coffee.
Available in 2 Colours:
Dark Wood
Olive Wood
Materials:
Borosilicate Glass
Wooden Neck
Clumsy Goat Roast Of The Month Coffee Subscriptions

Discover an exciting new Clumsy Goat roast each month

All of our roasts are 100% Fairtrade certified

Roasted in weekly batches for extra freshness

Pause, skip or cancel any time

Start your subscription today via the link below and save 10% on your first delivery - with free shipping!
View Subscription Details