Roller Grill Fixed Salamander Grill - Electric - 640w x 380d x 330h (mm) - TS1270
£444.00
ex VAT
(£532.80 inc VAT)
or from £2.31 per week
£740.00
RRP

- save

£296.00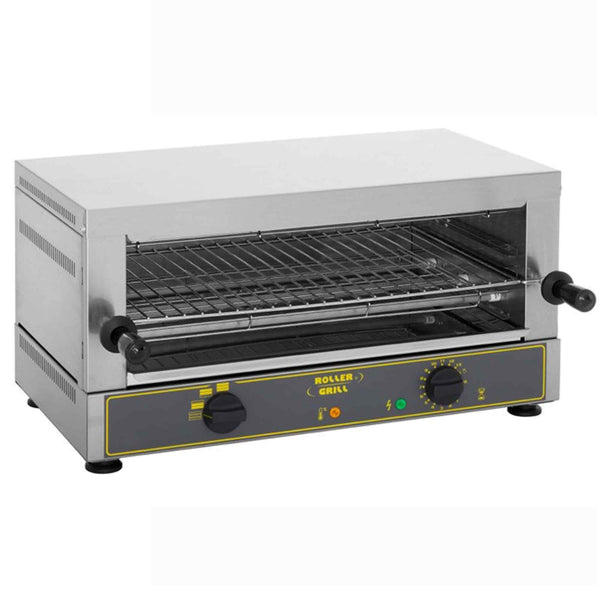 Roller Grill Fixed Salamander Grill - Electric - 640w x 380d x 330h (mm) - TS1270
£444.00
ex VAT (£532.80 inc VAT)
or from £2.31 per week
£740.00
RRP

- save

£296.00
SKU:
TS1270
BRAND:
Roller Grill
This powerful grill is perfect for toasting, grilling and re-heating sandwiches and snacks of all kinds, including Pizza, Croque-Monsieur, Quiches and toasts. Heating from top and bottom the TS1270 is a high speed toaster or it can be used as a traditional salamander by just using the top elements. With a heat up time of just 30 seconds the TS1270 is an efficient cooking platform and the radiant infrared technology keeps smoke and odours to a minimum making the TS1270 ideal for front of house use.

Features: 15 Minute timer with constant overide Infrared Quartz elements Independent control of top and bottom elements Shelf takes a full 1/1GN tray

Weight 15kg
Power connection 13 amp plug
Power 2.7 KW
Dimensions (mm) 640 x 380 x 330
Shelf area 1/1GN

2 Year Parts and Labour Warranty

Get A Free Lease Quote Today!
Call us on 01706 452 922 to speak to a member of our team.

Alternatively you can fill out the form below and we'll get straight back to you :)