Roller Grill Enamelled Steel Griddle - Electric - 400w x 700d x 230h (mm) - PED700
£451.61
ex VAT
(£541.93 inc VAT)
or from £2.35 per week
£700.00
RRP

- save

£248.39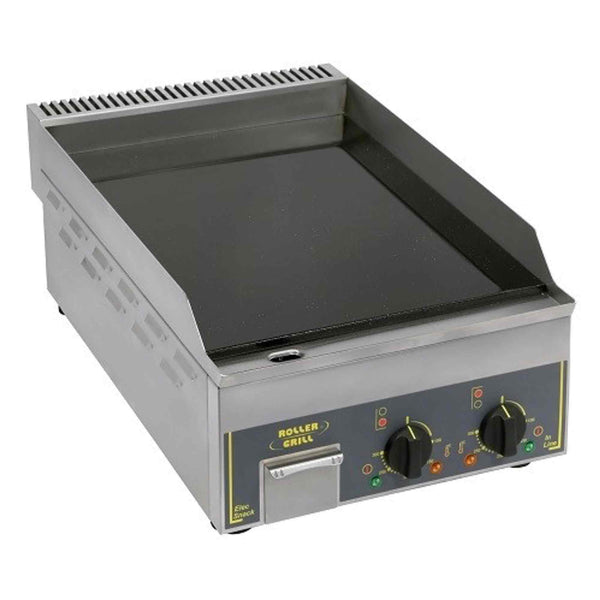 Roller Grill Enamelled Steel Griddle - Electric - 400w x 700d x 230h (mm) - PED700
£451.61
ex VAT (£541.93 inc VAT)
or from £2.35 per week
£700.00
RRP

- save

£248.39
SKU:
PED700
BRAND:
Roller Grill
Our In Line range is designed to bring maximum performance to your kitchen whilst making the best use of space on your counter.

The PED700 is a high-performance duel zone electric griddle. Built around a 10mm thick steel cooking plate, it provides a solid cooking platform for your griddle menu; burgers, sausages, eggs etc.

The steel plates is coated with multi-layer hard enamel which provides a perfectly smooth cooking surface, even distribution of heat and a degree of non-stick performance.

Features: Two independently controlled cooking zones; front drainage drawer; hard enamelled cooking surface

Weight 28kg
Cooking surface area 400 x 600 mm
Dimensions (mm) 400 x 700 x 230
Power 2 x 3 KW
Power connection 13 amp plug
Temp C (min) 0
Temp C (max) 300

2 Year Parts and Labour Warranty

Get A Free Lease Quote Today!
Call us on 01706 452 922 to speak to a member of our team.

Alternatively you can fill out the form below and we'll get straight back to you :)