Eureka Helios 65 On Demand Coffee Grinder - 65mm
£629.00
inc VAT
(£524.17 ex VAT)

£850.00
RRP

- save

£220.99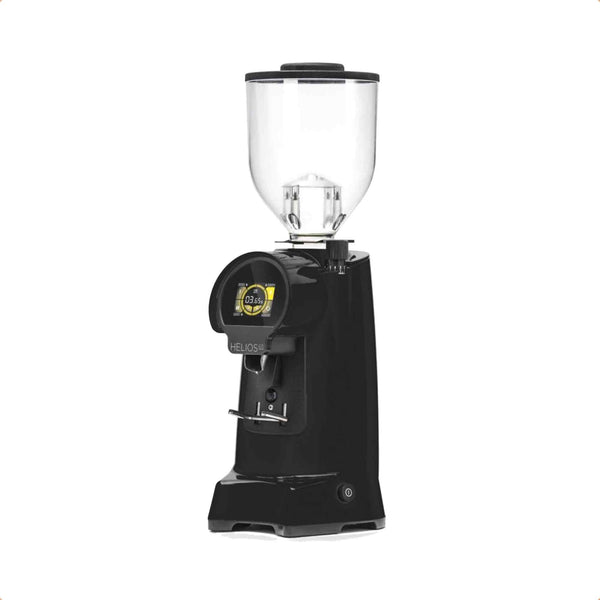 Eureka Helios 65 On Demand Coffee Grinder - 65mm
£629.00
inc VAT (£524.17 ex VAT)
£850.00
RRP

- save

£220.99
SKU:
JAG30715
BRAND:
Eureka
From Eureka comes Helios, another outstanding espresso grinder.
As well as including many standard Eureka features (including high-speed grind dispersion, stepless micrometric regulation system for quickly and easily adjusting grind fineness output, the ACE anti-clumping system which ensures consistently fine grounds make their way out of the grinding chamber, all-purpose adjustable "hands-free" fork, filter-holder spotlight and an adjustable chute) Helios 65 grinders also feature a fantastic output speed of up to 5 grams per second, as well as an intuitive touchscreen. Perfect for larger outlets.
Product features:
Brand: Eureka
Hopper capacity: 1.2kg
Grinding speed: 3.5-5g/s
Burrs size: 65mm
Burrs material: hardened steel
Power: 570w
RPM: 1,380
Dimensions: H: 600 x W: 220 x D 250mm
Weight: 12kg
Colours available: Black, Silver, Yellow. 
Please note that our usual 10% discount code (CG10) is sadly not valid for this particular model. We apologise for any inconvenience caused.

Eureka Helios 65 On Demand Coffee Grinder - 65mm
Item was faulty when delivered (didn't work at all).
Clumsy Goat immediately delivered a replacement and arranged collection.
Very happy with how the matter was resolved.
As for the grinder; it's excellent (so far)
Affordable & professional
Very professional service & good advice given before purchase of Coffee Grinder .
Amazing price too !
Clumsy Goat Roast Of The Month Coffee Subscriptions

Discover an exciting new Clumsy Goat roast each month

All of our roasts are 100% Fairtrade certified

Roasted in weekly batches for extra freshness

Pause, skip or cancel any time

Start your subscription today via the link below and save 10% on your first delivery - with free shipping!
View Subscription Details