Jura Giga X3 Gen II Bean to Cup Coffee Machine - Up to 150 Cups Per Day
From £27.95 per week.
(Prices exclude VAT).
Please contact us for outright purchase pricing.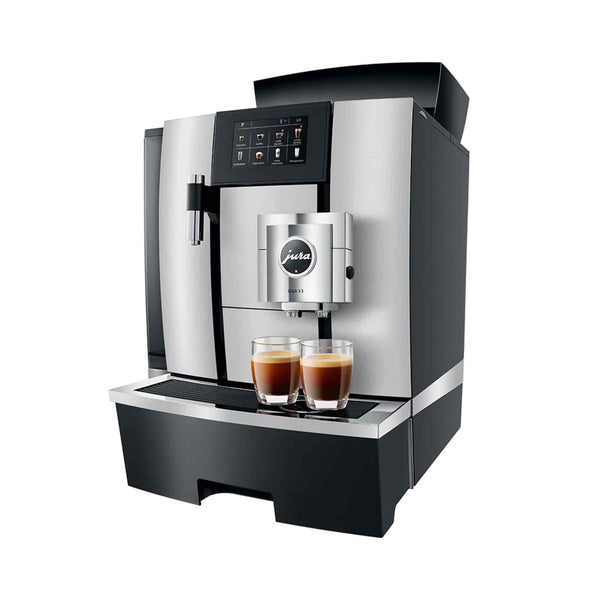 Jura Giga X3 Gen II Bean to Cup Coffee Machine - Up to 150 Cups Per Day
From £27.95 per week. (Prices exclude VAT).
Please contact us for outright purchase pricing.
The new GIGA X3 Professional offers everything needed by staff in a large office or break-out room. It delivers up to 32 individually programmable speciality coffees and another 12 barista recipes at the touch of a button, including the en-vogue flat white.

As well as offering simple operation, it takes minimum effort to refill thanks to the large bean container with a holding capacity of 1 kg and aroma preservation cover. Other features include an optional coffee grounds disposal function and drip drain set.
Price Beat Guarantee
Found this machine cheaper elsewhere? We'll beat any like for like quote, guaranteed.

Great For Busy Offices
With an affordable price, fantastic build quality and the ability to produce up to 150 drinks per day, the Giga X3 makes the perfect addition to any busy office. It's available in plumbed or manual fill variants too!
Trusted, Award Winning Manufacturer
The Swiss company is the only brand anywhere in the world to focus solely on premium automatic speciality coffee machines and is positioned as a specialist in this market.
Order From An Approved Jura UK Partner
We are an approved Jura partner here in the UK and can offer the most competitive lead times and support levels for their entire range of machines.

It's all inside the GIGA X3: The high-performance ceramic disc grinder guarantees reliable grinding results for many years which are sure to be precise, consistent and even. A top innovation provides that extra special something: A.G.A.© (Automatic Grinder Adjustment) – the electronically controlled automatic readjustment system. The Pulse Extraction Process (P.E.P.®) optimises the extraction time for short specialities and CLARIS Pro Smart delivers perfect water quality for a pure taste in combination with the Intelligent Water System (I.W.S.®).

The GIGA X3 features a sophisticated height-adjustable dual spout, which finishes off trend specialities with milk and milk foam to perfection thanks to fine foam technology. The speed function ensures speciality coffees in record time. Time spent topping the machine up is reduced to a minimum thanks to the large bean container with a holding capacity of 1 kg and aroma preservation cover. What's more, the high capacity of the water tank, drip tray and coffee grounds container maximise autonomy, making the GIGA X3 ideal for mobile use too.

Increased power combined with the highest quality – that's the GIGA X3. The concise, 4.3" high-resolution touchscreen colour display is completely intuitive. Modern graphics that are easy to understand mean that even first-time users can navigate with confidence. The dishwasher-proof drip tray can easily be removed, emptied and reinserted with just one hand. The centre of gravity is ideally located to prevent any spillages. Simple, clean, quick, convenient – this 5-star concept is incorporated down to the very last detail.
TÜV-certified hygiene guarantee

Maintenance of the GIGA X3 is just as straightforward, logical and intuitive as its operation. Original JURA maintenance products and integrated rinsing and cleaning programmes ensure TÜV-certified hygiene at the touch of a button. The milk system is also very easy to clean. The fully automatic process is started with just a touch on the display and ensures perfect cleanliness. The solid dual spout can be dismantled in just a few easy steps. The milk spouts at the front are readily accessible and easy to replace if necessary.
As individual as your requirements

The GIGA X3 can be used alone or combined with accessories such as a cup warmer or accounting system to create the ideal complete coffee solution for any requirement. It can also conveniently adapt to increasing requirements.
AVAILABLE MODELS
The Giga X3 is a very versatile machine and is available as either manual fill or plumbed, whichever is best for your business.
Giga X3 Gen II - Manual Fill
The manual fill version of the X3 is great for offices where a water line isn't available. The high capacity 5L tank makes usage a doddle! (Please note that the tank makes the machine is 50mm wider than listed on the specification sheet below).
Giga X3 Pro C Gen II - Plumbed
The plumbed Pro C variant is easy to connect to a cold water line and provides a hassle free way to keep the tank full.
Optional Extras
Any option can be added to your lease agreement or purchase price.
1 Litre Milk Cooler
For the most affordable Giga package look no further than the 1L cooler. There is also the option to upgrade to a 2.5L or 4L if required.
4 Litre Milk Cooler
For busy sites who will use the full capacity of the machine. The 4L cooler needs refilling much less frequently. It looks great too!
Slimline Cup Warmer Unit - Optional
All our Giga machines can pair with Jura's slimline cup warmer unit. Each unit has two shelves, both of which are heated.
Glass Cup Warmer - Optional
Jura's glass cup warmer unit sits beautifully alongside any machine, providing storage and easy access to heated cups.
FREE GIFTS
Free Delivery & Installation
Free 2 Years On Site Parts & Labour Warranty
Free Jura Milk Cooler
Free Cleaning Kit
Free Water Filter
1000 Free Sugar Sticks
3kg Free Premium Hot Chocolate Powder
Free Case of our Fairtrade Italian Espresso Coffee Beans (makes 840 drinks, worth £1848 if charged at £2.20 per cup!)
KEY FEATURES


Variable brewing chamber

Intelligent preheating

Thermoblock heating technology

Integrated rinsing, cleaning and descaling program

Adjustable water hardness

One or two cups of espresso in one brewing operation

32 Different drinks available

Hot water function - for tea and hot chocolate

Pulse Extraction Process (P.E.P.®)

5L Tank Capacity

Make Up to 150 Drinks Per Day

40 Portion Ground Waste Container (Approximate)

Coffee Strength, Water Volume & Water Temperature Adjustment

Cup illumination when brewing

Programmable Switch-on/Switch-off Time
Since 1931, the Swiss company JURA Elektroapparate AG has been developing innovative high-end household appliances.

As a pioneer in the field of automatic espresso/coffee machines, JURA has been a main contributor to the household appliance sector since the middle of the 1980s. Now, the company uses its experience and know-how for the development of professional appliances for the office and foodservice sector.

The traditional Swiss brand has now become a global player. The main office of the company is located in Niederbuchsiten, Switzerland. JURA is represented in Germany, Austria, the Netherlands, the US, the UK, Australia, Spain, Sweden and South-East Asia.
Benefits of buying from us
What makes us great.
Whether you're new to coffee or a fully fledged expert, we can help!
Jura Approved Partner

View The Machines In Our Showroom (Selected Models)

Price Beat Guarantee

Flexible Leasing or Outright Purchasing Available

Quick Service Response Times

Personal Account Management

Full Mainland UK Coverage
Lots of happy customers
Here's what they have to say!
Clumsy Goat has got it right. Value for money, quality and their roasting is second to none in the UK. The flavour and attention to the craft of coffee roasting should be shouted from the mountain tops. Taste, talent and love for the complex bean. Happy customers now.
GERALDINE M.

Oxford
Took a chance as a new customer. Coffee arrived very quickly and we have found it wonderful. Coffee like it should be, I would highly recommend to anyone considering a purchase. We have tried the espresso and the Brazilian beans and they are the best we have ever tried. Will be getting more.
Tony C.
Buckingham

Top to bottom these guys are doing it right, not only is it the best coffee I've ever had, the customer service is unreal and the whole vibe of the business is just so professional yet friendly. The whole team at CG just make everything easy and I'll be a life long goat man.100% recommend.
Max O.
Manchester
Save 10% on your first coffee order!
Enter your email below and we'll send you a discount code to get started :)