Franke A1000 Bean to Cup Coffee Machine - 300 Cups Per Day
From £79.22 per week.
(Prices exclude VAT).
Please contact us for outright purchase pricing.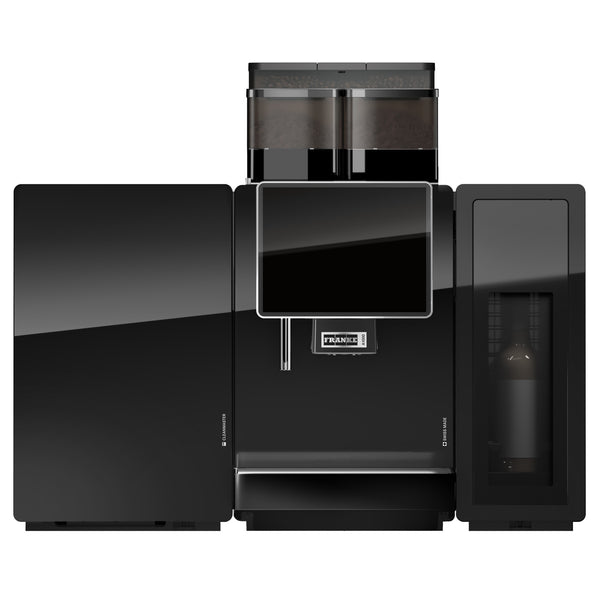 Franke A1000 Bean to Cup Coffee Machine - 300 Cups Per Day
From £79.22 per week. (Prices exclude VAT).
Please contact us for outright purchase pricing.
For an industry leading experience
The A1000 Clean Master Foam master provides your guests their very own moment of luxury. Easy to operate, delivering premium coffee every time with an extensive list of drinks.

The 10.4 inch colour touchscreen with crystal clear resolution for images, videos and sound is the perfect interface for you and your guests. Intuitive menu prompts result in straightforward, efficient operation. Drinks menus are easily configured to suit your needs. Nutritional and allergen information are clearly displayed. It quite simply is the ideal user interface at your disposal.

Patented brew units and ceramic grinders guarantee exceptional coffee quality. The innovative IQ technology ensures full pressure over the whole coffee cake during the full time of extraction of coffee delivering consistent in cup quality every day in every cup. The dispense head is automatic accommodating the required cup size.

Combine great coffee with FoamMaster™ technology delivering texturised milk foam, either hot or cold foam or hot or cold milk. Achieve an artistic layering effect by varying the milk foam density and consistency.

The A1000 has the option for three grinders or two different types of chocolate and a flavour station holding 6 syrups. The range of drinks is endless.

Price Beat Guarantee
Found this machine cheaper elsewhere? We'll beat any like for like quote, guaranteed.

Great For Premium Locations
With an impressive heritage and the ability to produce up to 300 drinks per day, the Franke A1000 makes the perfect addition to any high end office or coffee shop. All models include the FoamMaster system, for truly premium milk quality, and the CleanMaster system for automatic cleaning.
A Seriously Impressive Heritage

Since its foundation in 1911, Franke's success has been based on innovative engineering, unique design, and outstanding Swiss quality. These values are still the cornerstone of their success today, together with entrepreneurial spirit, solution-oriented action, and a sense of responsibility.


Integrated Hot Chocolate System
The hot chocolate hopper allows you to make creamy hot chocolate drinks with hot milk or milk foam from a simple tap of the touch display.
Franke A1000 Product Video

The A1000 showcases impressive individuality for exceptional enjoyment and has five strong selling points that are all unique:

Enjoy even more coffee varieties with six flavours | iQFlow™ | FoamMaster™ for dreamy milk foam | CleanMaster included as standard | Multimedia touchscreen

Whenever, wherever: your personal coffee

This coffee experience can be yours, no matter who or where you are – all with that personal touch for a whole new level of luxury.

- The A1000 is packed with cutting-edge innovations so that every guest can enjoy their personal coffee whenever they want and wherever they are.
- The A1000's outstanding intelligence is hidden deep in its inner workings. With its sumptuous design, it also looks breathtakingly good on the outside.
- The A1000 from Franke is the perfect answer to every coffee desire, every time.
Game-Changing iQFlow™

Up to now, professionals have relied mainly on the fineness of the grind to control the extraction quality. With iQFlow™, we have developed an intelligent technology that gives you access to a whole new level of flavor extraction and product consistency.

- Get more flavour out of the beans
- Define your individual taste profiles
- Ensure product consistency in every cup, every day, at every location
Bringing the big screen to the user interface

The multimedia interface offers almost unlimited possibilities, including top-quality video with excellent sound.

- Enchant guests: Self-service with an attractive drinks menu, including a choice of cup size and flavor
- Boost service efficiency: Enter large orders in a single step, avoiding errors and making the most of the machine's capacity
- More information for your customers: Nutritional and allergen information for each drink in a simple display
- Extra sales for you: The drinks menu can be easily configured to suit your individual preferences, with videos and adverts to tempt your customers even more
FoamMaster™: dreamy milk foam quality

Fitted as a option, the FoamMaster™ guarantees perfect milk foam every single time, something that is sure to have everyone in raptures.

- Unbeatable milk foam quality: the consistency and thickness of the foam can be varied, and artistic layers created.
- Outstanding consistency: even at high outputs and under the highest demands.
- Endless creativity: drink combinations with hot and cold milk foam or hot and cold milk.
- Two milk varieties, two parallel refrigeration circuits: ideal for different milk varieties and milk alternatives.
CleanMaster: fully automatic cleaning system

The fully automatic CleanMaster cleaning system is included as standard in the refrigeration unit of the A1000 to ensure that the strictest hygiene standards are met at all times.

- Scientifically proven cleanliness: Simpler, quicker, fully automatic cleaning for exemplary HACCP hygiene
- Hygienic, practical milk container system: Patented system for up to two milk varieties, with two parallel refrigeration circuits
- Efficient cleaning process: fully automatic process with integrated cleaning cartridge for maximum convenience – safe and practical
Digital Services – Take control of your coffee

Raise coffee quality. Improve profits. Enhance experience. Connect your fleet with Franke Digital Services and take control of your coffee business.
Swiss made, through and through

The A1000 is produced in Switzerland. This guarantees top quality, reliability, efficiency, and durability, so that you get the most out of your investment.

- Outstanding brew group: Patented brew group with a 43 mm and 50 mm sieve and a needle filter. Can be removed quickly and easily from the front without tools.
- Precise grinding: Up to three grinders can be used. The bean hopper is easy to access using the central unlocking mechanism on the front of the machine – without using any tools!
- Three boilers: Separate boilers for hot water, coffee preparation, and steam guarantee maximum output.

More flexibility

The A1000 provides even more options for your own individual configuration. A third coffee grinder for your special bean blend? How about adding a Flavour Station or a cup warmer? You can add extras to the A1000 in stages.


Optional Extras
All can be added to your lease agreement.

5L Milk Cooler
Under machine & below counter units available too.

12L Milk Cooler - Included
Perfect for high volume locations where the system isn't monitored consistently.
Cup & Cool

5L of milk storage and space for 80 cups, which we can also supply.

Heated Cup Station
Space for 120 cups with 4 heated shelves. Cups are available too!
Syrup Station
Available for the A600 and all models above. Integrate 3-5 syrup flavours seamlessly.
Card Payment System
Ideal for self service environments. Pricing can be customised to your requirements.
Coin Payment System

Great for Hospitals where contactless payment systems may be unavailable due to wifi restrictions.

Coffee Grounds Ejector
Allows used coffee grounds to be passed through to a waste container below the counter.
FREE GIFTS
Free Starter Cleaning Kit
Free Delivery, Setup & Training
Free 12 Months On Site Parts & Labour Warranty
1000 Free Sugar Sticks
Free 2kg of Premium Hot Chocolate Powder
Free Case of Our Fairtrade Italian Espresso Coffee Beans
Free 2kg of Our Fairtrade Organic Swiss Water Decaf Coffee Beans (For Machines With Two Grinders)
KEY FEATURES


10.4 Inch touch display

Automatic cleaning

Boiler heating technology

Integrated rinsing and cleaning programmes

Illuminated side panels

Available with an external water tank or plumbed

Many different coffee drinks available - both hot and cold

FoamMaster technology included as standard

Hot water function - for tea

Display advertising messages on screen

Cup illumination when brewing

Twin bean hoppers included for decaffeinated coffee

Integrated hot chocolate hopper (a second hopper is available too)

Economical operation

Free installation and professional training included

Franke are renowned for incredible quality and reliability. Their production process is streamlined for short lead times and maximum reliability.

Outstanding quality has been one of their most important success factors for over 100 years. Their products are durable, robust, and sustainable. They are continually testing and improving, always asking how they can make a product even better. This claim is reflected in their entire value-added process.

Benefits of buying from us
What makes us great.
Whether you're new to coffee or a fully fledged expert, we can help!
Franke Approved Partner

View The Machines In Our Showroom (Selected Models)

Price Beat Guarantee

Flexible Leasing or Outright Purchasing Available

Quick Service Response Times

Personal Account Management

Full Mainland UK Coverage
Lots of happy customers
Here's what they have to say!
Clumsy Goat has got it right. Value for money, quality and their roasting is second to none in the UK. The flavour and attention to the craft of coffee roasting should be shouted from the mountain tops. Taste, talent and love for the complex bean. Happy customers now.
GERALDINE M.

Oxford
Took a chance as a new customer. Coffee arrived very quickly and we have found it wonderful. Coffee like it should be, I would highly recommend to anyone considering a purchase. We have tried the espresso and the Brazilian beans and they are the best we have ever tried. Will be getting more.
Tony C.
Buckingham

Top to bottom these guys are doing it right, not only is it the best coffee I've ever had, the customer service is unreal and the whole vibe of the business is just so professional yet friendly. The whole team at CG just make everything easy and I'll be a life long goat man.100% recommend.
Max O.
Manchester
Save 10% on your first coffee order!
Enter your email below and we'll send you a discount code to get started :)